TPI HELPATHON #4 Report
A huge THANK YOU to everyone who has donated their time and ideas … 'Back to the future' seems to cover well for a retrospective view on Helpathon#4 and a personal word of "thank you" to all who engaged in this event of late November 2 and 3. I would like to thank all the helpers for their contribution, energy and open mindedness.' 
Frank, Raissa, Anne-Marie and Jeffrey, all researchers from the Biomedical Primate Research Center in Rijswijk, clearly appreciated the help offered by the 60 participants of TPI HELPATHON #4.
Looking for complex in vitro models
Frank, Raissa, Anne-Marie and Jeffrey asked us to help them find in vitro models with high levels of complexity  to help fight: tuberculosis, malaria and  alzheimer. They were looking for human organoid models that could mimic and thereby replace using primates as a  model. During the 24 hour long Helpathon they shared practices and points of view with other participants and explored upcoming possibilities for in vitro modelling of the lungs, the liver and the brain.  Fifteen of the participants were present in Mister Lion' Helpathon  studio and forty five joined in the specially conceived Online Helpathon Hous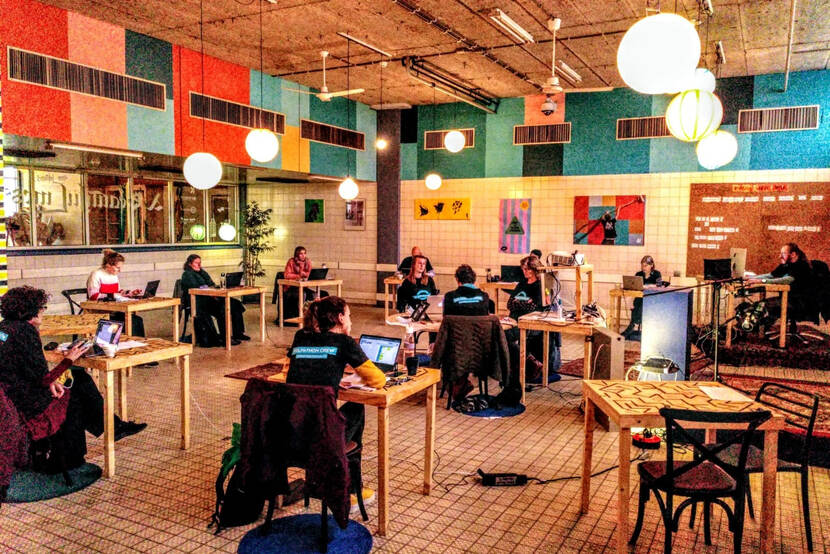 It might be important to break down complex questions
After a good night's sleep, using our famous collaborative post-it session, it became clear that the level of complexity required in an in-vitro model was directly related to the complexity of the research question.  Building the right level of complexity into an in vitro model was compared by Jeffrey to solving a really tough rubik's cube: each face contains characteristics that are linked in a particular way. As soon as you change something in one face it messes up what you put in the other faces. As the helpers revisited the researchers questions they also came up with other research strategies to fight the respective diseases. Both integrating these research efforts and building the invitro models require strong  multidisciplinary collaborations between different specialistic organisations… and of course the funding that comes with it.
Raissa and Jeffrey are committed to continue their exploratory conversation on models related to aging:  'During the Helpathon we have learnt -to our relief- that many researchers struggle with the exact same problems as we do. The Helpathon helped in making contacts with researchers with a lot of expertise in studying aging, hands-on experience in brain organoids and in manufacturing 3D cellular microenvironments.'
Frank has obtained a more clear view on what is and what is not becoming possible and what is still 'lala land': 'While reinforcing existing and establishing new contacts with people who are pioneering animal-free pulmonary platforms, it became clear that the complexity of physiology and immunology is too extensive to tackle at this moment the complete applied research objective (...) But, on a positive note, we reconfirmed the relevance of our continuing efforts in trying to define an in vitro biomarker assay to measure correlates of in vivo protection. By using cells from a vaccinated host for such in vitro assays, we could eventually - if successful - make infectious challenges of animals redundant in the future.'
Anne-Marie is looking forward to starting new collaborations: 'During the Helpathon, my research question remained unchanged, but I now know a lot more about which 3D liver models are available and who has the expertise.(...) Beginning next year we will start to exploit the putative collaborations and hopefully do some pilot experiments. If we get this model in place this will surely help us in unraveling the mysterious dormant parasite biology.'
The Helpathon team is pleased with the result:''I lived in a tunnel' a participant declared during the check out.  The team points out that,  as  scientific researchers, we create our own world: our field of research, the people in our team, other colleagues in the same research field etc. We sometimes forget that there are other worlds out there as well. Worlds related to our research field or project. But these other worlds exist, and they can provide new insights from a different reality. The cross-border principle, looking beyond the boundaries of your own world, can make a special and surprising contribution to the research. During this Helpathon many participants travelled over the bridge instead of driving through their tunnel…'